Editorial Board Guest Author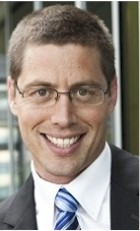 Mr. Jost
Benjamin Jost
Co-Founder & CEO, TrustYou
Benjamin Jost is co-founder and chief executive officer of TrustYou. Since 2008, TrustYou has set the standard for reputation management with solutions for hospitality-industry businesses to analyze online reviews, tweets and posts across the social web, to gather trusted reviews directly from its customers, and to use the authentic conversations to successfully market online reputations.
TrustYou monitors over 400,000 hotels, providing an extensive base for competitive analysis, capturing sentiment and opinions from millions of comments in one easy-to-view place from sources like TripAdvisor, Facebook, Google+, Twitter, Yelp and more across 23 different languages.
Mr. Jost is an expert on social semantic search and is leading the big data revolution in hospitality. As CEO he has been instrumental in the company's growth from two to 70 people with more than 13,000 customers in 60 countries.
TrustYou's clients include individual hotels, independent boutique chains, destinations and major global brands such as Accor, Marriott, Starwood, Hard Rock Cafes and Best Western Hotels. Started in Munich, Germany, TrustYou is now a global company with USA headquarters in Dallas, Texas and offices and sales representation in U.K., the Netherlands, France, Central Europe, Asia and Australia.
Mr. Jost is extremely hands-on with TrustYou's international team hailing from 23 countries and speaking more than 20 different languages. He oversees product development, as well as all PR and marketing for TrustYou. Mr. Jost personally interviews all engineers for the research & development team and less than five percent make the final cut.
Mr. Jost has was a driving force in the acquisition of USA-based ReviewAnalyst in 2011 and the company's partnerships, spanning an impressive variety of organizations; from tech companies like Google, Trust and Micros, to destination-specific alignment with Germany and Switzerland to develop the countries' official star-rating systems for hotels.
Prior to TrustYou, Mr. Jost spearheaded the Southern European M&A team for one of the world's leading renewable energy providers and oversaw hundreds of investment cases covering a profusion of renewable technologies. He started his career in venture capital at Siemens Venture Capital and Xange Capital. During his studies he conducted extensive research into the security aspects of mobile applications systems and organic RFID.
Mr. Jost holds a MsC in engineering from the University of Technology in Munich and conducted research at the ENST Paris and the University of Washington Business School, Seattle.
Please visit http://www.trustyou.com for more information.
Mr. Jost can be contacted at +49 895-480-2925 or benjamin.jost@trustyou.com