Editorial Board Guest Author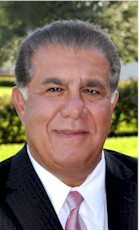 Mr. Belmonte
Steven Belmonte
CEO, Vimana Franchise Systems LLC
Since becoming the youngest general manager in the history of Holiday Inn at the age of 18 and later buying the hotel he started at, to holding the title of longest standing President of a national franchised hotel chain while at the helm of the Ramada hotel chain, Steven J. Belmonte brings new meaning to the phrase "from the mailroom to the Boardroom."
In 2002, Mr. Belmonte returned to his entrepreneurial roots and launched Hospitality Solutions LLC, a full-service, nationwide consultation firm specializing in lodging industry issues at the hotel and corporate level. Drawing on over 35 years of experience and key contacts both inside and outside of the industry, Hospitality Solutions was specifically designed to offer franchise negotiation services for hotel, restaurant, and quick service restaurant owners nationwide.
In 2002, Mr. Belmonte launched Vimana Franchise Systems LLC. In May 2011, Vimana Franchise Systems launched the Centerstone brand as a three-segment franchise designed to create a fair and cost effective model for the hospitality industry.
In November 2011, Key West Inns was re-launched under the Vimana Franchise ownership umbrella as a fun and uniquely themed leisure brand.
Prior to Hospitality Solutions, for nearly 11 years Mr. Belmonte was President and CEO of the Ramada hotel chain, which had over 1,000 hotels and nearly 135,000 hotel rooms throughout the United States. He also served as Executive Vice President of the Cendant Hotel Division. Major accomplishments included more than doubling the size of the chain, adding the Ramada Limited and Ramada Plaza Hotel tiers, and launching the bold "Ramada's In/Holiday's Out" advertising campaign.
As part of his plan to solidly position the Ramada chain in the upper-mid-tier segment, Mr. Belmonte also masterminded the revolutionary customer service initiative, Personal Best Hospitality, which offered tuition reimbursement and a variety of other incentives to foster a career path in the hotel industry.
Please visit http://www.vimanafs.com for more information.
Mr. Belmonte can be contacted at 407-654-5540 or steve@vimanafs.com