Editorial Board Guest Author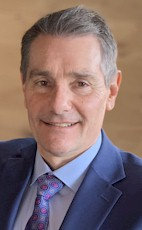 Mr. Kasprak
David Kasprak
Principal, O'Kelly Kasprak
Throughout his career, David Kasprak has worked in every facet of architecture and design, mastering both the hospitality field and beyond. Now, as he leads O'Kelly Kasprak and realizes the firm's creative vision, he keeps his decades of experience close at hand, using his knowledge to guide projects and discover unexpected solutions that help his team reach their goals.

Mr. Kasprak loves meeting and sharing his passions with others, and it's with that personability that he started his career. After earning both his Bachelor's and Master's degrees in architecture from the University of Illinois, he joined Aumiller Youngquist. Over the following 25 years at that firm, Mr. Kasprak honed and expanded his skills beyond sketching and designing and into management and leadership. In time he also became one of the firm's Principals, helping to refresh the company's style and direct their creative output.

During his years at Aumiller Youngquist, Mr. Kasprak became introduced to the hospitality sector. He was drawn to its particular challenges and rewards, including figuring out how to actualize designs while keeping in mind the practical realities of spaces, budgets, and, put simply, life.

The pure excitement of walking through a completed restaurant, bar, or hotel never loses its charm for Mr. Kasprak. The rooms and buildings we move through, dine at, and live in ought to be not just accommodating, but energizing, and he is committed to achieving that balance of form, function, and liveliness in every project. Great design moves with us as we navigate the world.

In 2010, Mr. Kasprak and Belinda O'Kelly branched out on their own to establish the kind of full-service, hospitality-focused design studio that they wanted to see. They shared both a passion for getting the most out of every space and a joy at exploring new ideas, and together they've built O'Kelly Kasprak into a leading design and architecture firms in the hospitality sector.

As a Principal of the firm, Mr. Kasprak makes it a priority to listen to and communicate with his clients to help bring their visions to life. He believes the best results come from working together, so the process at O'Kelly Kasprak is extremely collaborative. From discussing and shaping initial ideas, to selecting colors, materials, and furnishings, all the way through to seeing the space built and completed, Mr. Kasprak is there to apply his expertise.

Please visit http://www.okellykasprak.com for more information.
Linkedin Profile: https://www.linkedin.com/in/david-kasprak-350a154/
Mr. Kasprak can be contacted at +1 312-962-5977 or david@okellykasprak.com