Editorial Board Guest Author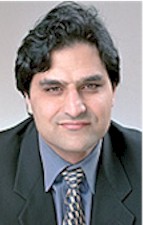 Mr. Razdan
Rahul Razdan
CEO, Ocoos
Rahul Razdan is the CEO of Ocoos, which enables business owners to quickly and intuitively build a world-class marketing solution for their respective interests. Ocoos is the result of Mr. Razdan's extensive experience involving sales and marketing, and research and development (R&D).
With over 25 years of managerial and senior-level positions with a variety of organizations, including his successful sale of two technology companies (concerning, respectively, programmable logic devices and wireless power) to Xilinx Corporation (XLNX) and Qualcomm, Mr. Razdan is a top entrepreneur and executive within his areas of expertise.
Mr. Razdan's career also features a distinguished series of accomplishments on behalf of Cadence Design Systems (CDNS), overseeing a $300+ million P&L portfolio. That mastery further applies to his role as a computer architect for Digital Equipment Corporation's (DEC) famed CPU design team.
During this period, Mr. Razdan had the distinction of being awarded over 25 patents and having authored over 20 peer-reviewed articles, three of which are Best-of-Conference papers. In addition, he is the recipient of the Outstanding Lifetime Achievement Award for Contributions in the Field of Reconfigurable Computing from Harvard University.
Mr. Razdan holds a BS and MS from Carnegie-Mellon University in Electrical Engineering, as well as a PhD in Computer Science from Harvard University.
Mr. Razdan can be contacted at 978-549-5013 or rahul.razdan@ocoos.com