Editorial Board Guest Author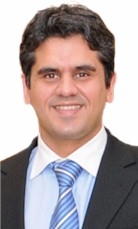 Mr. Chopra
Bhanu Chopra
CEO, RateGain
Bhanu Chopra, aged 40, is an India-based young and dynamic entrepreneur, currently the CEO of RateGain, an IT solutions, a company he founded in 2004. Mr. Chopra has a masters degree from Indiana University Bloomington, USA in Finance and Computer Science.
Mr. Chopra started his career at Deloitte Consulting serving several Fortune 500 companies in Chicago. He is currently the CEO of RateGain, a company he founded in 2004. Prior to setting up RateGain, he co-founded Riv Consulting. He started RateGain in response to the increasing popularity of Online travel agencies (OTAs) like Expedia and Orbitz in the west, when he identified the business need of these OTAs to compare rates across their competitor websites.
Mr. Chopra has been profiled on the Young Turks program of CNBC-TV18 and was shortlisted as a finalist for the Red Herring 100 Asia Awards 2008 and again recognized as a great entrepreneur for his active participation & involvement as a part of iSpirit's Podcast series where he shared his views on transforming India into a hub for new generation software products.
Mr. Chopra is a sought after speaker in the travel and hospitality technology space. He has been speaker/ panelist at various HSMAI events, Hotel technology Conference, China Low Cost Airline Summit, Independent Hotel Show etc. He is also a contributor to publications like 'Entrepreneur' and 'The Economic Times'.
Mr. Chopra is a visionary, achiever and a great leader. With his great passion and remarkable dynamism, he has taken RateGain to great heights. Today he guides the development of RateGain's service offerings and delivery methodologies.
Please visit http://www.rategain.com for more information.
Mr. Chopra can be contacted at +91 956-083-3220 or bchopra@rategain.com