Why the Restaurant Industry Should Be Embracing Mobile Technology
By Tom O'Rourke President & CEO, O'Rourke Hospitality | July 29, 2012
With mobile technology quickly becoming an integral part of everyday life, it is shocking that a March 2012 study by the Restaurant Sciences Industry found that 95% of independent restaurants don't have a website optimized for mobile devices and only about 50% of chain restaurants have one. Forget about mobile applications for the moment – so few restaurants have an app that the study didn't even mention them.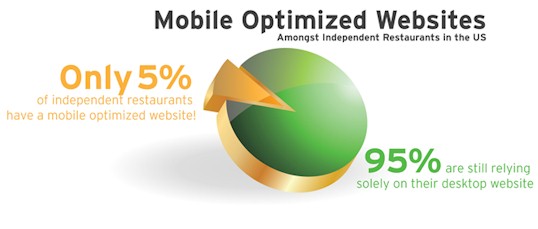 Why isn't this market more readily embracing mobile technology? As we have seen over the last two to three years, mobile applications and mobile websites have taken off. "Do I need a mobile website or mobile application?" is no longer the question you should be asking. Mobile technology is not going away and its usage increases by the day. Mobile websites and applications present companies with unique opportunities to increase revenue and customer loyalty and they offer a new kind of convenience to their users.
Throughout this article we will discuss the various types of mobile technology and benefits they can provide to the restaurant industry.
Mobile Websites for Restaurants
In this smart phone crazed digital age, finding a perfect meal is made easy with mobile versions of popular websites – Yelp and Foodspotting are good examples. These sites not only help users to track down the best food but in the best places and the best according to the user's circle of friends. They are not simply review sites but social networking sites about food, and according to Mashable, 57% of people don't go out to eat without first consulting them.
Please Login to read the full story, or you can Get Free 30-Days Hotel Business Review
The Hotel Business Review articles are free to read on a weekly basis, but you must purchase a subscription to access
our library archives. We have more than 5000 best practice articles on hotel management and operations, so our
knowledge bank is an excellent investment! Subscribe today and access the articles in our archives.